I may have mentioned in previous blogs that writing sometimes requires inspiration from a very unlikely source. This is exactly what happened to me yesterday morning.
The valentine's day release of the record breaking '50 Shades of Grey' has provided me with the inspiration for today's blog (believe it or not). The film has become a global phenomenon, mirroring the novel's success that hit the shelves back in 2011. I was on holiday the week the book was released and every woman and her dog had a copy. I must admit I did take a sneaky peak whilst the wife wasn't looking (don't judge me) I wanted to know what the fuss was about. Why has this book taken over the lives of women across the globe? When I heard the film was set for release I knew I needed to do something.
A colleague of mine took his wife to watch the much anticipated film. "So" I hear you say. Understandable reaction. However, hear me out. I've been racking my brain for the last couple of weeks, thinking of ways I can utilise the social madness surrounding Mr Grey and his erotic prowess to create some brand awareness for Office Reality, 'surf the wave' so to speak. But How!! '50 Shades of Camira Grey' was one idea but trying to write about 50 different shades of grey fabric proved to be challenging.
Yesterday, my opportunity arose. For those that have watched the sex fuelled box office hit you may have noticed Mr Grey's executive office space (that is a long shot though). By the sounds of it, the furniture is the last thing anyone will be thinking about. For those that didn't notice or are yet to watch the film here you go…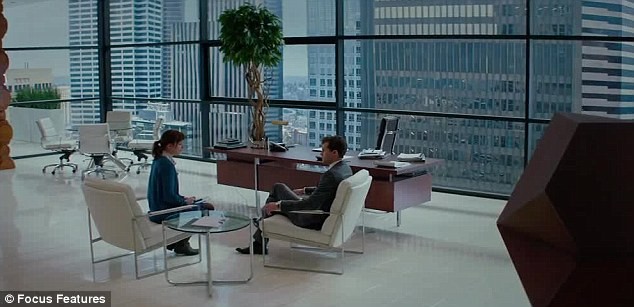 Source Daily Mail: http://dailym.ai/1G6WKXk
Today I am going to help you obtain a modern appealing office space as close to Mr Grey's as I can physically get it.
Meeting Area (Far Corner)
It seems to me Mr Grey has popped into Office Reality HQ at some point and seen our meeting room, because it's virtually exactly the same (good taste Mr Grey).
Arkitek Circular Glass Table - The Designer Arkitek glass table would add a touch of class to any office space or meeting room. Its stunning aluminium frame adds real character separating itself from anything else that is on the market.
White Leather Eames Chair - A designer meeting room table deserves to be complimented by designer seating: the white leather eames chair not only provides you with an unrivalled classic look it also boasts a number of adjustable features, making it not only a stylish seating solution, but also a comfortable one.
Small Breakout Area
Mr Grey has decided to stick with the glass and white leather combination in the breakout area. Its aesthetic design would strike any visitor (Anastasia) instantly - leaving them (the visitor) not only mystified by his good looks but the quality and modern look of his office.
Treaty Low Designer Seating – Mr Grey continued with the designer seating and so have I. The Treaty Seating range has a near faultless design and would look the part in any breakout/reception area. The endless amount of fabric/leather colour options only adds value to this ranges appeal.
Gloss Glass Coffee Table – Stylish glass coffee table which blends in seamlessly into any backdrop. Its chic four star aluminium polished base compliments the frosted glass table top effortlessly.
Mr Greys Executive Desk
I thought I'd leave the 'piece de resistance' till the end. Mr Grey has seriously pushed the boat out when it comes to his desk, without doubt they've tried creating an air of importance and power. It's the final piece of the jigsaw for any office space, but it's arguably the most important. I have trawled through our executive and designer desk categories and I've selected a desk which I can describe with one word -"WOW".
ABC Executive Range – If you want to create status in a personal office, you've stumbled across the perfect range for you. This desk combines sophisticated looks with a contemporary finish appearance: coming in two finishes, Wenge and Light Oak. The desktop has angular desk supports and aluminium ends with a tapered profile.
Skan Designer Task Chair – An attractive designer office chair that has a ribbed back design contributes to the overall artistic appeal of the chair.
You may not have taken any notice of Mr Grey's office UNTIL NOW! I advise not to think about it too much when you're watching the movie. You may lose track and end up analysing your office space to the point you cannot concentrate on the activity happening in front of your very eyes.
So… You now have everything to compete with Mr Grey or create your own Mr Grey. The Book, The Film and NOW his office.
GOOD LUCK and thank you Mr Grey for providing me with this fantastic opportunity, it's greatly appreciated.