Do you have a spare 240k sitting in the bank account? Wondering what to spend it on? Worry no more, the 'Bugatti' inspired executive office desk will be sure to put a dent in the bank balance. The inspiration stems from the 'Bugatti Veyron' grand prix car of the 20's and 30's.
This office desk is a perfect way to say "I've got loads of money and I can buy what I want". Certainly a different way of going about it, but has the same effect all the same.
Designed by the team at Luzzo Bespoke, the office desk features honeycomb grill drawers, a billet aluminium frame and a height adjustment which replicates the Winfield carburettor's synchro quadrants from a type 57 model. The desk has been finished in French racing blue with a tan leather writing area.
It's crazy to see an idea like this actually bought to life. Many similar ideas never come to fruition. If you have a passion for classic cars and/or office furniture, this office desk will combine the two. What better location for your laptop or desktop monitor than this savvy creation. Its only downfall is that you must own a Bugatti to be able to purchase one. You could probably purchase the two together for around £1.25 million. A mere drop in the ocean (sense any sarcasm?).
Front View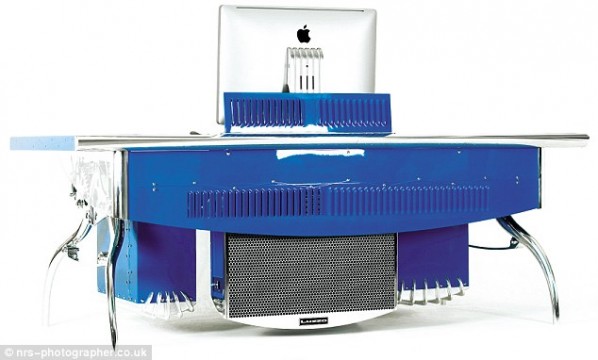 Rear View