Athlete Lab, 110 Cannon Street, London, EC4N 6EU.
'Athlete Lab is a unique indoor experience. They provide real bikes (not spin bikes), in a convenient location, with the very best coaches. They cater for complete beginners to national level athletes. The coaches at Athlete Lab implement the Shane Sutton Method which is a proprietary, easy-to-use, world class training protocol suitable for all levels'. This is also matched with technical data which is supplied to each user during each session.
Athlete lab is strategically placed within the city of London in the heart of the business and financial district making it more appealing to those wanting to achieve training results between busy work schedules. They are two more similar labs in Singapore and Sydney where it was first established in 2012.
Athlete lab contacted Office Reality a few months before officially opening their doors as they wanted to make sure their reception area and reception desk worked with their existing branding which evidently had cross appeal within the business, cycling and triathlon fraternity. After a few discussions and research with the Athlete lab design team it was clear that the most suitable solution in this instance would be the Valde reception unit with inbuilt led lighting on both the underside of the top counter and above the kick plate. The LED lights on the desk give the reception area the technical look which fits in with the culture of the company. The Valde unit also comes with high gloss coloured fronts in lime green, orange, red, black and white. In this instance the white gloss front panel was selected and measured in total 2346mm which is enough for two receptionists to work from comfortably. The Valde desk usually comes with storage units each side but on this occasion perhaps for space saving reasons they were omitted and replaced with the standard panel ends. Underdesk pedestals were supplied instead for each receptionist's personal belongings and files.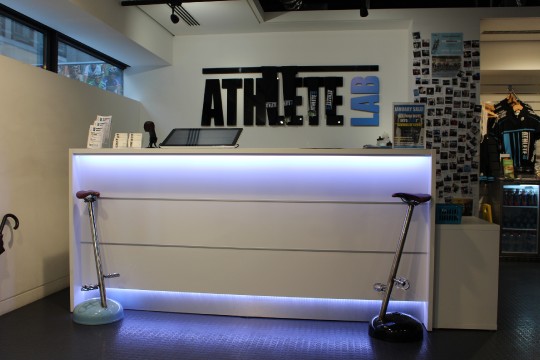 I was impressed with the Athlete Lab concept when visiting because it struck me that sometimes amateur and professional athletes need that extra attention that some gyms or spin classes may neglect. On top of that keeping to a training regime whilst working in the city must be difficult without this state of the art facility. The use of real bikes would also seem to help as it simulates muscles within the legs and body that some standard spin bikes could not utilise due to the mechanical set up. There were also big screens at the front which encompassed a whole wall simulating a road race which would give those in training a real boost if they were on the back wheel of their cycling hero!
Anna Mc Kay from Athlete lab commented:
'Our reception desk at Athlete Lab fits in perfectly with our modern, state of the art, high tech fitness studio based in the centre of London. Office Reality provided a fast, efficient and friendly service for which we are thankful. We would happily recommend them to others'.