AVS net was founded in 2005 and is a leading Audio Visual communications solution provider who also offer ongoing client support and services. They have a unique understanding of their market place and a general understand of collaborative technology which has resulted in an impressive blue chip client base.
We were contacted by Kayleigh Baxter from AVS who informed us that due to investment in new leading IT and operational infrastructure they were moving in to bigger premises in order to accommodate their growing team. We were sent an outline of a floor plan with detailed measurements of the doors, windows and existing partitioning which defined the meeting rooms. From this we were able to draw up our own CAD model of the room allowing us to present to Kayleigh a few different options using various 'call centre ranges' from our website.
We offer many types of call centre desk pods solutions but one of our most popular ranges is the Offimat range which provides solutions for many different working areas such as telemarketing, meeting rooms, manager's offices and home offices. The main part of the Offimat family we supply are the booths (often seen in libraries) and call centre clusters, both come with dividing panels between worktops to allow each user a degree of privacy when working or reading. In this instance the 4 person cluster version was settled on as we were able to offer seven pods accommodating 28 personnel within the required parameters meeting the initial requirements of the brief.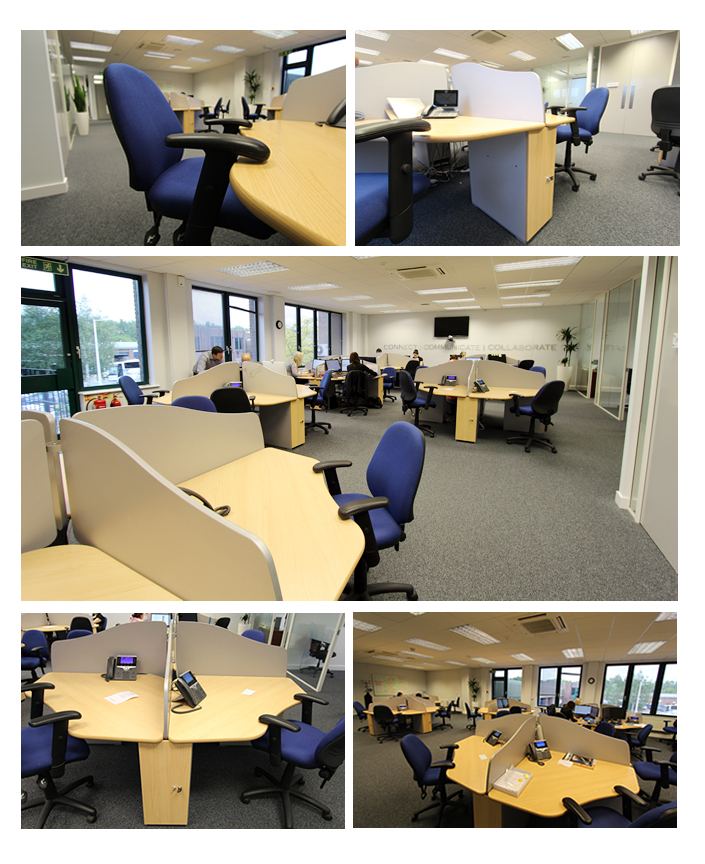 We also put forward as a seating solution 20 Pricebuster Operator chairs with height adjustable arms which are available in five different fabric choices with blue fabric being the chosen colour within this scheme.
AVS net required our optional professional installation services on this project as the timing was important as they needed the desk pods and chairs in place almost immediately after taking occupancy. The AVS team were extremely happy with the installation and the specification of the furniture supplied. We wish them luck within their new premises and hope to work with them in the future for further furniture requirements.