Cigital is recognised as being the largest software security consultation firm in the world, providing an extensive range of software security solutions including; consultations, training (instructor lead and eLearning), mobile application security and cloud services. Their aim is to address the potential risks connected with using third-party software.
Formed in 1992, Cigital rapidly became a well known quantity within the software security sector after developing and manufacturing the first ever commercial static analysis tool (ITS4). The ITS4 technology was later used as the foundation to create Fortify Software (1999). Hewlett Packard purchased Fortify Software in 2010 for a figure in the region of $265 million.
Cigital approached Office Reality shortly after learning they were soon to be relocating their offices to London's business district, Canary Wharf. During the opening telephone conversation, it was apparent, due to the capitals high rental prices, fulfilling the space potential was paramount. Lead times were also to play a factor in the furniture selection, with an opening date scheduled 10 days after the initial telephone conversation.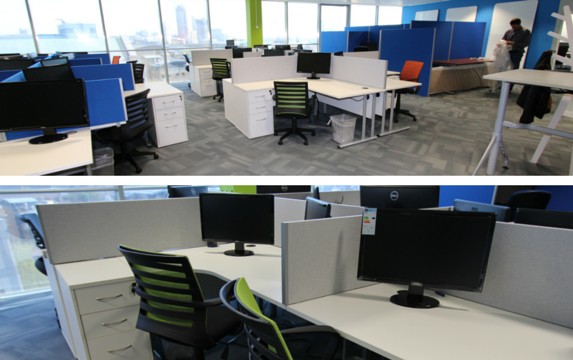 Our client wanted to create a modern, open plan office space, mirroring the very current surroundings of Canary Wharf. Two 8 person workspace combinations were later finalised as the ideal workplace solution. These were fashioned using 8 1600mm x 1200mm Flite corner desks with desk height pedestals. Finished with both 1600mm and 800mm New Line rectangular desk dividers retaining the employees' personal workspace.
James (Cigital Project Manager) stressed the importance of having individual work booths. These have become a very common requirement in open plan offices, enabling staff to catch up on emails, make phone calls in privacy without being disturbed and/or disturbing others. The Flite, Newline combination was again selected to create two quiet work booths at the front of the building.
16 Designer Laser mesh back chairs were enlisted as the preferred seating solution.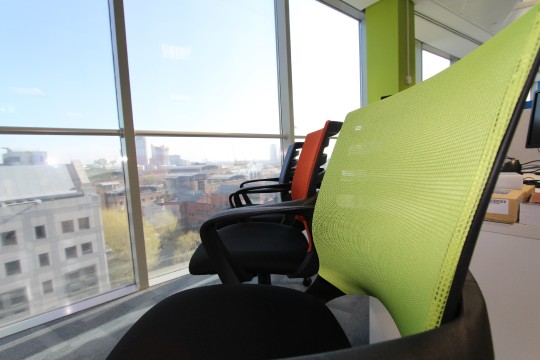 Office Reality supplied an ample furniture solution, ensuring they adhered to James' design concept, which was to create a welcoming workspace for employees and visitors alike; promoting collaboration whilst remaining professional and functional.
For Full Project Gallery CLICK HERE
Something of interest? Please don't hesitate to contact Nathan on 01823 218563 or email: nathan.sheehan@officereality.co.uk I'll be more than happy to help.