G3 Communications provides communications, voice and data technology and network security with high customer service and support levels. They have a long standing partnership with manufactures of voice and data technology which puts them at a strategic advantage in the markets that they serve. Their mission statement reads:
G3 Comms will provide business transforming communication, collaboration and ongoing services solutions that will create a sustainable competitive advantage for our customers.
G3 Comms contacted Office Reality when they learnt they were soon to be relocating their offices and needed to accommodate for their expanding workforce. A member of our project management team discussed the relocation with the director in person and analysed the available space they had in order to accommodate the whole team and future team members.
Initially the first proposal consisted of banks of Avalon desks each measuring 1200mm x 800mm which seems to be a standard size now predominantly in the London area where space is at a premium. It's still enough however to accommodate each user comfortably with enough room for under desk pedestals.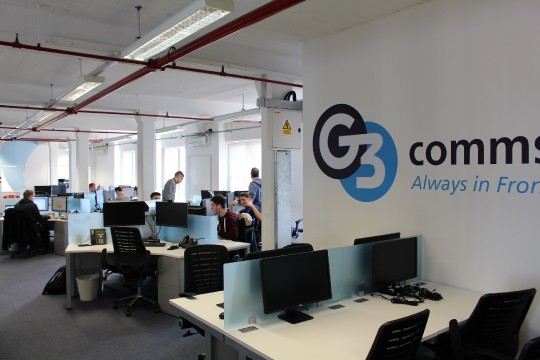 During the design process we switched the regular straight desk on the south side of the office over to a more interesting 120 degree style of desks from our Avalon Plus range. These desks are combination desks where the pedestal drawers make up part of the leg structure which is a great space-saving and stylish solution. The pedestal and legs are available in white, grey and black and can be combined with contrasting desk tops available in 15 different wood finishes.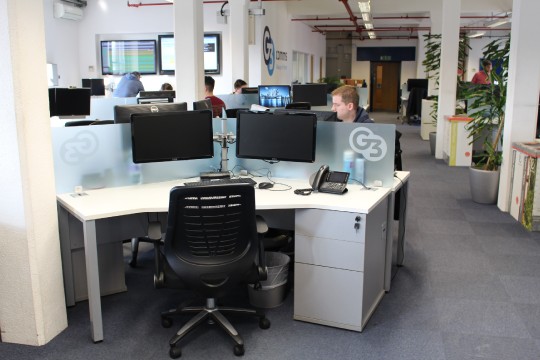 We supplied G3 Comms with frosted acrylic desk top screens which featured their logo on one side and another sister company's logo on the other. These bespoke screens enhance the company branding and act as a visual reference and guide throughout the two sister companies.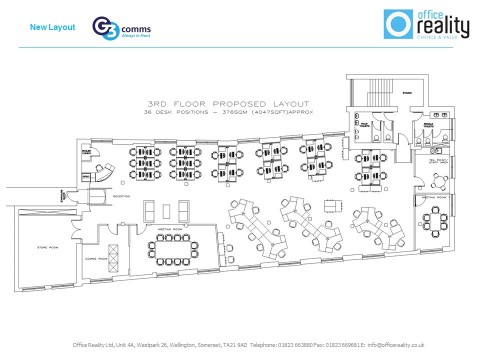 We also proposed various full height storage wall solutions which were placed across two areas in the office one smaller unit behind the reception area with the storage wall doors featuring the dynamic G3 Comms logo. The secondary storage wall ran along the main office wall with each module containing metal adjustable shelves and roll out filing frames all behind 18mm thick lockable doors which can be interchanged if necessary.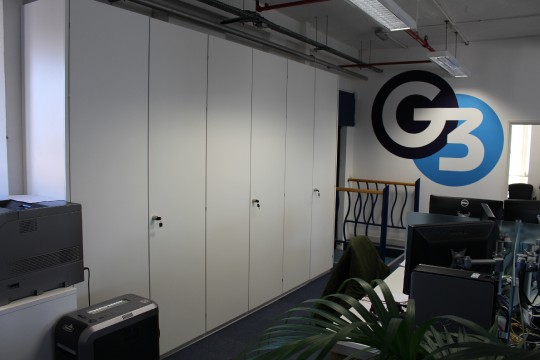 G3 Comms were extremely pleased with their new offices and furniture specifications and we continue to work with them as their preferred commercial furniture supplier and space planning consultants.
Adam Young the director of G3 Communications said:
Office Reality, in particular Angela and the Installation Team provided and implemented a furniture refit project, completing the work to a very high standard. G3 only being a 40 person Company has always struggle with some suppliers, in getting the care and attention we feel that we deserve. Angela and the team provided this in abundance. We would always be happy to be a reference site.
Regards
Adam Young – Owner G3 Communications