Innovation 1st create powerful marketing concepts and merchandise aiming to captivate their client's audience, forever telling the story behind the brand. The company's rapid growth is down to its imaginative ethos, which is "to change the way organisations think about marketing their brand, products or services".
Their expertise within market analysis and creative design stems from working with a variety of clients, from project based work with small niche brands, to operating with some of the world's more prominent brands such as Shell, Weetabix, Aston Villa and Aston Martin.
Innovation 1st contacted us to design a tailored seating solution for their offices. This had to include breakout areas and waiting areas, as well as providing a complete task chair solution for all 30 office employees. A very clear desire was conveyed in the initial telephone briefing; To create a modern aesthetically pleasing office space which was not only inviting to its workforce, but also to its visiting clients.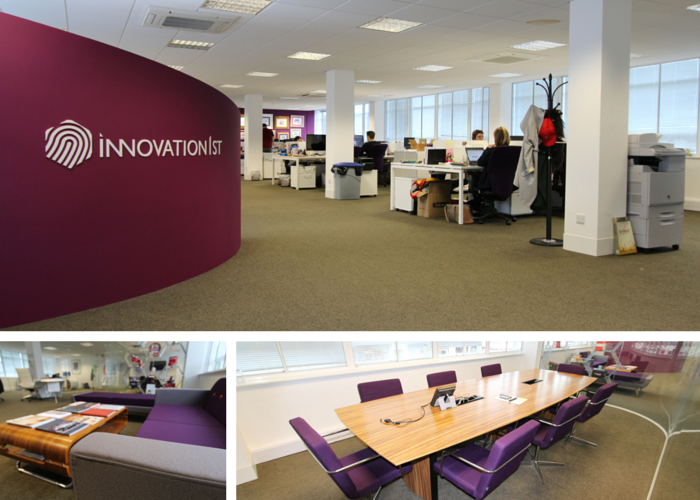 We specified the visually appealing 'Kola Sofas' to form the waiting area. The Kola collection of benches and sofas create a striking combination of contemporary and retro style on a solid beech frame and has detailed coloured buttoning sewn in to the back rest.
A number of solutions were put forward for the meeting rooms, with the 'Melba Designer Armchair' finally being approved. Its trendy designer appearance is reinforced by the detailed stitching located on the rear of the seat. The sleek chrome four star swivel base only adds a contemporay feel.
Two small breakout areas were to be shaped around the outer part of the office space. 'Arkitek Circular Tables' were later nominated as the centre pieces, its unique polished chrome frame is complemented with a compact laminate table top which is available in 5 different wood finishes, as well as two glass top options. 'Ikon Chairs' were selected to carry on the very minimalistic design concept that our client had embraced.
Employees on site also required new chairs which had to meet the high demands of a busy, very active work environment. The 'Lyon Task Chair' was favoured due to its contemporary design and coinciding with the clients desire for an ergonomically moulded shaped back, ensuring healthy back support for all.
Staff at Innovation 1st were extremely happy with their modern new office and it's certain to have a positive impact on the staff and visiting clientele for years to come.
For full project picture gallery Click Here
Do you have a project in mind similar to this? We would love to hear from you.