Telecity Group is Europe's leading provider of data centres which provide secure and highly connected environments for the IT and telecoms equipment that effectively powers the digital economy and internet. Telecity's data centres are strategically placed across Europe in destinations such as Milan, Paris, Frankfurt, Sofia, Istanbul and Amsterdam. The UK data centres are located in London, Manchester with another centre Dublin, Ireland.
In 2014 Telecity group contacted Office Reality with a view to improve their existing reception area at their Manchester site as their current reception desk consisted of two large radial workstations with screens. We supplied them with a large two person desk from the Evolution range which worked well because it could be specified and designed to coincide with Telicity's branding guidelines with the logo featuring on the led lit panelling on the desk itself.
We were therefore pleased to hear from Telecity once again when they required 14 new workstations, screens and storage solutions to replace their existing furniture at the Manchester site which did not correlate with their new branding guidelines and identity. We were sent some pictures of their existing offices and a floor plan which gave us the abilty to space plan using the existing desks as a template and guide. After sending on our first proposal it was decided that a more interesting layout would be required than the standard cross or pod of four corner workstations which they already had. The new layout was now going to consist of 120 degree workstations which usually consist of three desks to make up one pod. This type of desking is popular in call centres and service industries and offers a more interesting and dynamic look compared to standard rectangular or corner desks.
---
3d visual generated in pCon showing the Avalon 120 degree combination pedestal desks:
---
Amongst the many 120 desks we offer the Avalon Plus 120 desk with combination pedestal at 600mm deep was chosen as it gave a minimalist look and was available in the requested finishes of grey and white. We also specified aluminium framed blue perspex frost coloured screens which are complimentary to the Avalon Plus range and again suit the 'tech' look that Telecity we aiming for.
The staff on site also required new chairs which had to meet the demands of a busy data centre environment. The ECT designer mesh chair was put in the scheme as it's a heavy duty chair with a large comfortable leather seat and headrest matched with a breathable mesh back. Low level blue glass door Armariuos storage was used to compliment the desks and screens and have been used previously by Telecity group in other data centres.
---
Installation photos of the new layout: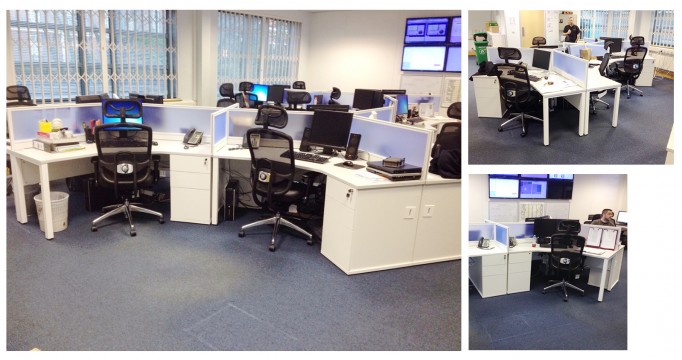 ---
Overall this was a successful installation and the staff at Telecity Manchester were really pleased with their new office and look we hope to work with Telecity on future projects.
Aqsa Rassaq from Telecity commented:
We have bought several items from Office Reality as their tailor made service and on-going support has been a delight to work with in the past. With the office refit we had in mind, Ben assisted us throughout the process from start to finish.
Overall, we were very satisfied with the end result and the installation team were efficient and quick at assembling the desks.
I would recommend Office Reality and would most certainly return to them for future orders.
Do you have a similar project in mind? If so we would love to hear from you.