UAL, 272 High Holborn, London, WC1V 7EY
University of the Arts London is a public research university located in London, specialising in art, design fashion and media. It is essentially a hub university compromising six other colleges around the greater London area. It is Europe's largest provider of education in the arts and manages to bring 19,000 students in from over 100 different countries! We were therefore pleased to hear that they wanted to work with Office Reality in supplying and designing a new reception desk for Student Services.
The reception desk had to be fairly large and needed to accommodate at least three staff members who would be manning a busy desk in order to provide students with vital information. We also needed to incorporate a DDA (Disability Discrimination Act) section which would be low level giving wheelchair users better access. The desk also had to incorporate coloured elements (you would expect this of course being the UAL) as the carpet in the same area was going to be made up of various different colours and different shaped tiles. We were able to meet the requirements of the brief quite early on by quoting and specifying the contemporary Riga Reception Desk which is extremely stylish due to the simplistic modular panel shapes which are available within this range. Adding to the modular panels are rectangular shelves and hang over panels which can either be specified in either at Matt or Gloss lacquer or any RAL colour. In this instance the college opted for the reception shelves and overhang panels in the RAL colour which matched parts of the colour scheme and some carpet tiles.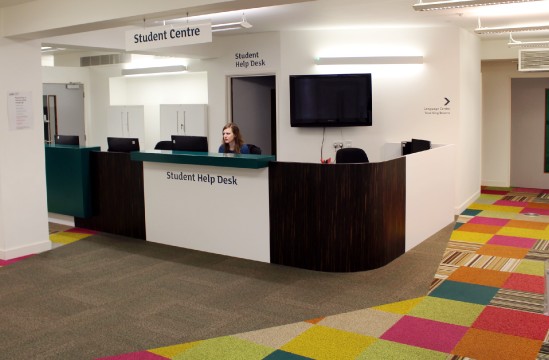 The results are very pleasing as the desk is extremely functional (from both sides) as the front and side panels are 48cm thick and the RAL coloured shelves give the desk its own identity whilst simultaneously keeping consistent with other colours in the same area. The college also added their own signage to the main front white panel of the desk which clearly states the department of Student Services. The Riga Reception Desk desk really is a great choice for any architects or design teams who want functionality and form with the option of adding their own mark through the use of RAL colours.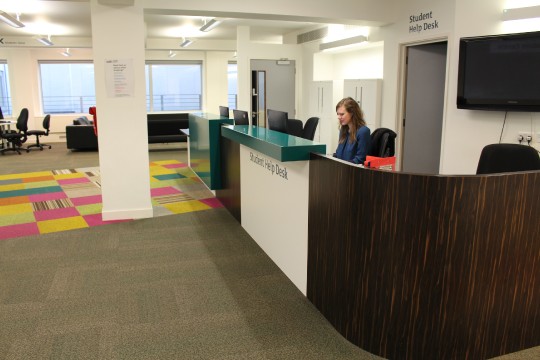 The Riga reception desk is manufactured in Italy and is currently on a lead time of 4 – 5 weeks for standard elements and 5 – 6 weeks for customers own RAL coloured elements. Please do not hesitate to contact any team member at Office Reality to discuss The Riga Reception desk or any project which you may be considering.