Which? Offer independent and impartial mortgage advice, persistently making sure customers get the best deal whether they're re-mortgaging, moving property or buying their first home.
Having launched to consumers in May 2011 with a team of just five advisers, Which? Mortgage Advisers now employ 65 brokers and boast an entire workforce of nearly 100. Which? has doubled its adviser and administration teams in the last six months alone and last September promoted a quarter of its advisers into either senior or management roles.
2014 marked a new era for the Bristol based firm after announcing they were set to relocate their offices in order to concur with the current workforce growth and any future developments the company may sustain.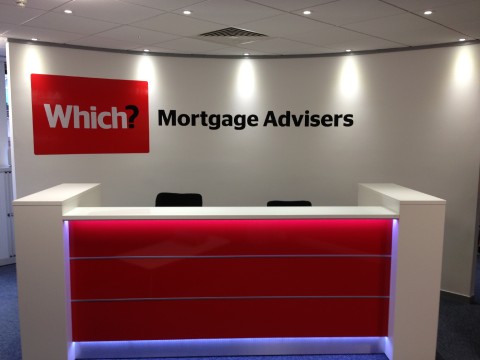 Which? Mortgage Advisers requested Office Reality's services shortly after the decision was made on the upcoming move. The following specifications were given:
· Provide a reception area that would create a lasting impression on visitors
· Deliver a reception unit that would coincide with the company's colourways (red and white)
· Functional for its users
· Storage compartments
After multiple discussions with the Which? Mortgage Adviser team it was clear that the most appropriate solution on this occasion would be the Valde Reception Desk with inbuilt led lighting. With lack of light proving to be a fundamental issue within the designated area, the Valde Reception Desk provided an apt solution due to its inbuilt LED illuminated front. The illumination under the counter top and above the kick plate ensures the reception desk is striking in dimmer rooms.
The high gloss red coloured front and white body was chosen to concur with the companies brand colours and measured in total 2930mm, this provided enough room for two receptionists to comfortably work in. In addition to this, two storage ends were selected, allowing users to remain clutter free and to store documents with minimal hassle.
Overall this was a popular installation, staff and visitors alike at Which? Mortgage Advisers are pleased with the new contemporary reception area.
Do you have a similar project in mind? If so, we would love to hear from you.