Office Reality's headquarters are based at Westpark 26, a business park of 40 acres which have been built and developed by Summerfield Developments. Current developments on the site include a Marston's Pub, a 40 bedroom Travelodge and industrial units all occupied by small and medium enterprises (SMEs) such as West Country Foods, Somerdale, Weightron Bilanciai and K – Signs all successfully operating within the units of Phase 1. Many more businesses are expressing their interest in Westpark 26 due to the excellent transport links being near approximate to junction 26 of the M5 and on one of the main through roads the A38.
We were therefore pleased to learn that our IT support company CJ systems were planning to relocate from Taunton to Westpark 26 and occupy a unit close to where we are currently situated. Having visited our offices and after discussing our expertise within the field of commercial fit out and office furniture solutions they asked for our help with offering them a complete turn - key solution for their new premises.
They wanted a non-fussy yet practical environment lending towards a more industrial look which is popular these days with white bench desking some soft seating and some break out furniture near to the kitchen area. We left some structural elements of the mezzanine exposed and segregated the flooring from carpet in the office area to a practical vinyl in the kitchen area. We installed a new range of bench desking called A2 which is the predecessor of our popular Astro Arche range, the main differences consisting of a reduced depth of each desk to 700mm from 800mm and a new scalloped desk top which enables cables to feed through with minimum interruption. Acrylic white screens were installed along with a new range of stylish mesh chairs with headrests which have been well received by the office furniture industry and marketplace.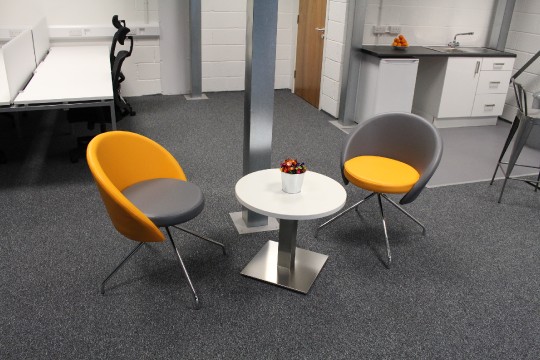 We wanted to take parts of CJ systems branding and added orange and grey to the Venus Tub Chairs in contrasting just colour vinyls (Cheiftan fabrics Tangerine and Greyfriar) with a chrome base. These sit alongside our stainless steel based coffee table with 25mm laminate white top, the same style base is used for the taller poseur height table within the kitchen area with 2 x Xavier Pauchard stools which is in keeping with the industrial look.
We also worked with K signs who are responsible for the main sign and the graphics on the door.
Chris Stilton of CJ systems commented:
"We are really pleased with our new offices, our expectations have been completely surpassed. We gave Office Reality the freedom to come up with a design based around an industrial style in keeping with the unit and our working requirements.
Not only did their design tick all the boxes, they gave us extra elements which we never would have thought of adding ourselves. The desks and desk chairs in particular are amazingly practical, stylish and very comfortable. The break out areas are in keeping with our branding and give the office different levels and aspects which are very eye catching.
I cannot praise the team at Office Reality highly enough and would recommend them every time."