We kicked off our visit to Clerkenwell with a visit to the main Farmiloe building which is a great landmark building for showcasing all the different furniture and lighting manufactures. On entering we passed a huge giant mural wall of 4,224 coloured tiles from Johnson Tiles which no doubt will be uploaded to many social media sites due to the impressive colour range that was put together by colour consultant Ptolemy Mann.
We went on and spoke to a number of independent furniture makers who were showcasing some of their new ranges which proved interesting, as they showed impressive detailing to their products which is something the larger manufactures can't replicate easily. Peter Wall from Assemblyroom was showcasing the Hyde range - break out furniture which was configurable to make either low seating or high seating. We also spoke to another husband and wife team from Bark who are based in Cornwall who specialise in beautiful handmade wood framed furniture coupled with a retro twist making each piece very unique and intriguing.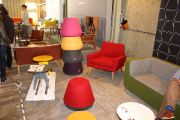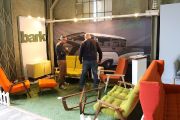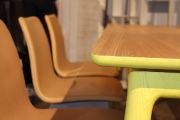 The first floor was given over to larger brands who supply Office Reality such as Abstracta (thanks for the bag!) airflake screens, Occee design who manufacture the Venus tub chair, the playful Giggle chair, touch bench and Dorchester sofa. Ocee design previously office chairman have gone through an impressive branding process and the stand looked like it was given over to more domestic style seating products which is currently finding its way in to the office furniture and commercial market.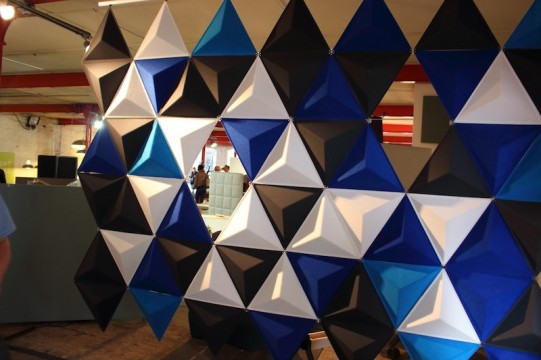 James Burleigh also has an impressive portfolio which also seems to blend domestic styles with the demands of the commercial environments. The Wagamama bench style seat has remained popular within the commercial sector and James Burleigh has met demands by keeping his designs colourful vibrant and current. We noticed specific detailing to the coloured cable ports on the boardroom tables making what is usually a fairly dull (usually grey or black plastic) necessity in to something quite visually arresting.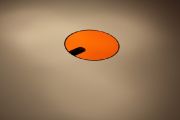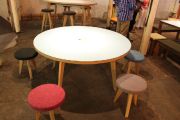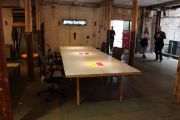 We then left the Farmiloe building and headed to the second Venue 'Detail' where the main exhibit from Fernando and Humberto Campana was in the impressive setting of the Church of St John. Here we were greeted with the strangest collection of chairs I think we have ever seen! The first two were made out of small blue leather dolphins and the second made up of toy tigers and lions I'm sure we would have problems categorising these types of chairs on our website let alone selling them! However they certainly proved popular amongst the visitors – maybe we will write up another blog on this interesting duo and their working methods.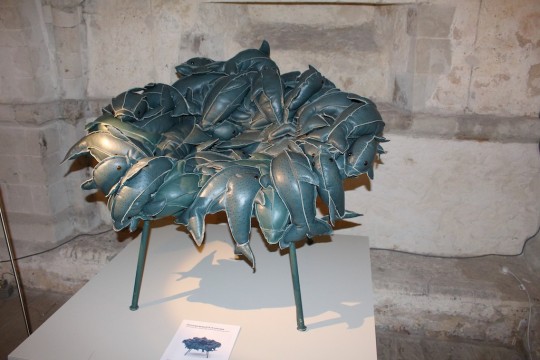 We then reminded ourselves that we were here to see and source new products from the Office furniture world so without getting distracted by further by chairs made of toys and clothes pegs we ventured further east to the showroom of reputable Spanish furniture manufacture Actiu. We have had a long working relationship with Actiu and their products and production methods are very precise and of high quality. Actiu supply us with the striking Arkitek, central and Vital range and a number of different seating options. We happened to bump in to the Era screen team who were sharing Actiu's showroom space and demonstrated a new range of noise reducing screen solutions work hubs, study booths, phone booths all under the umbrella name 'linc'. Accoustics within the working environment is something that can often be overlooked but can have quite an impact your working day if not managed properly. We can offer some great acoustic solutions using this system if it is required in your office.
We then finally moved on to the brand new showroom of GGI who were showcasing some of their new and existing product ranges all arranged around a crazy golf course, make shift bar and ice cream machine! They started us off with the scoop break out seating which is similar to the quba stools but with a wave design across the top which adds a visual interest to any breakout area. Adding to this was a series of stylish tub chairs writing tablets which are great for working in a more informal environment. The arti chair was also different to standard models as the back enables movement due to flexible horizontal slats which is something we have not seen before on other ergonomic chairs.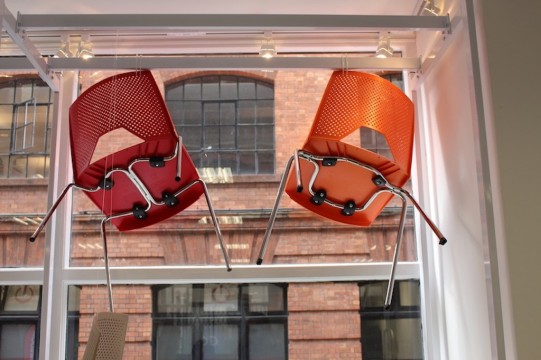 So there we have it – another successful visit to Clerkenwell during design week 2014. We have a bag full of flyers for new products, suppliers and business cards and we look forward to uploading some innovate new products to our website very soon.
See you next year!