Today, I want to take a look into some of the coolest office designs on the planet. Office environments have changed in such a short amount of time. Gone are the days of a basic office chair, office desk and the good old dial up internet connection (greatly missed). Exciting advances in technology and office furniture have combined to create some of the coolest office spaces ever (that and the very creative minds behind the ideas). ENTER THE MODERN ERA OF OFFICE DESIGN!!!!
Who: Red Bull
Where: Soho, London
Why: Where do I start with this one? The picture sort of does the talking. Stairs OR Slide? I know which one I'd choose. The funny thing is, 'Red Bull' are one of the only companies on the globe to have a height restriction on their application form (you must be this high to ride the slide) still, this may not be true! A ping pong meeting room table is something I will be discussing in the near future with my MD (watch this space). Red Bull have created an office environment that integrates office work with an element of fun. Staff would surely prefer being in work than actually being at home. Genius in my eyes.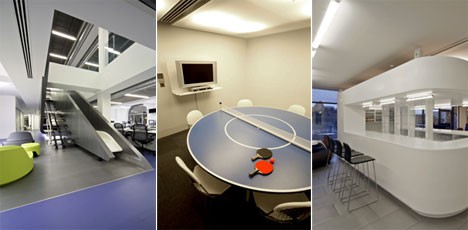 Who: Google
Where: Victoria, London
Why: This blog wouldn't be complete without search engine giants 'Google' making an appearance. The bizarre, eccentric designs were created by some of the brightest engineers In the UK. The relaxed environment which was created allowed the engineers and designers to put together their creative minds, producing one of the most fascinating office spaces in the UK.
The office space combines radical designs with more traditional designs, creating a modern office. Secret gardens on the roof terrace, a rustic cafeteria area, 'padded cell' meeting rooms and a 'flower power boardroom', to name a few add to the HQ's already flawless image.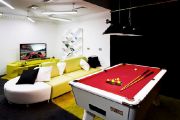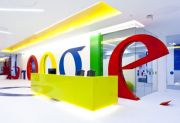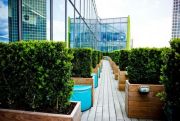 Who: Innocent Drinks
Where: Kensel Rise, London
Why: Otherwise known as 'Fruity Towers'. Innocent HQ strikes me as a stereotypical village fair. A village fair at work? I'd be more than happy with that. Fake grass, picnic benches, communal seating areas, table football, and my personal favourite, the nearly extinct, traditional, English 'Red Telephone Box'. Oh, and the entrance that greets employees every day gives you an insight into the company as a whole. Using wit and humour to sell products is a fantastic marketing ploy.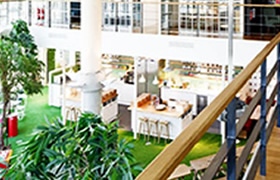 Who: Nicholas Tye Architects
Where: Bedfordshire
Why: This stunning office space in Bedfordshire provides a spectacular panoramic view of the countryside surroundings, giving employees the perfect setting to be creative and to be inspired. Furthermore, the tranquil setting gives staff the peace and quiet they need for their working days.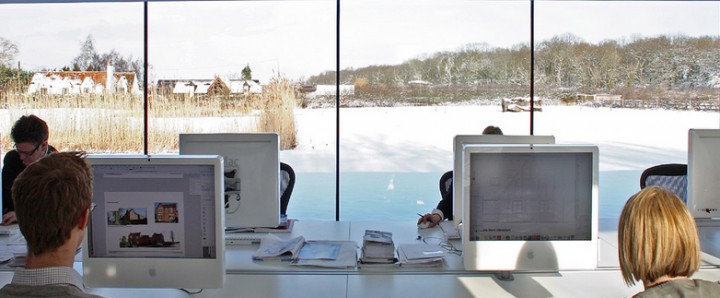 The 4 office spaces I've chosen are ones that strike me, personally, as stand out office spaces. Being an employee at places that provides you with an environment not only to cater for you work needs but creating an environment which also stimulates your social needs. The above office designs, I believe work on the basis of "if we satisfy all of your needs within the workplace, you'll satisfy all of our needs regarding the work you produce". I may be wrong! What do you guys think??