Formed in 2003, Digital-I source broadcasters and production companies with ratings and reporting solutions specifically tailored to their needs. Digital-I boast a portfolio of clients that range from broadcasters, programme makers and distributors from the UK and around the world.
Location: Taunton (Somerset)
Sector: Broadcast Analytics
Project Value: 35K
Areas of Work: Office Planning > Office Design > Office Fit-Out > Office Furniture
The Brief
Following on from an initial telephone conversation with Sam (Managing Director) it was clear what the company represented. Office Reality was asked to create an office space to reflect the company's image. We invited Sam to visit our head office for a meeting to discuss in length the project at hand. On arrival, Sam requested that their office space mirrored ours, from the office furniture all the way down to the carpet. The location was an empty shell, nothing but a dark dingy old warehouse room. A comprehensive renovation was very much needed to bring this empty space to life.
The Solution
Working with multiple contractors it was imperative to have a solid brief. Value for money is always a fundamental aspect of office design. Everyone has a budget and it is vital to adhere to it. The building was divided into 3 main areas. General work space to fit up to 12 employees, a meeting room with a glass partition, finally and most importantly a chill out area for lunch breaks. Project manager Angela, had a very clear mind set, the building needed to reflect a contemporary, modern working environment, whilst retaining practicality. Office Reality provided all partitions, office furniture and even provided the TV stand for the entertainment system.
The Result
Overall the project was a success for both parties. During the project debrief we asked Sam for his thoughts on the final outcome. "I found Angela's consultations crucial for transforming my initial ideas into a professionally styled and fully furnished office. The project was delivered on time, on budget and all aspects from service to furniture were of a high quality. I would highly recommend Office Reality and look forward to continuing to do business with them."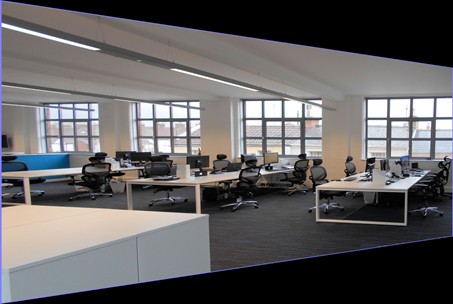 Further before and after project pictures accessible, click here.