Office Spaces across the country are changing and becoming more orientated around staff satisfaction. One day the whole world may be ran by robots, but for the time being us mere humans will shape the successes and failures of the estimated 5.2 million businesses in the UK.
With the above in mind, I want to touch on the subject of injecting some fun into the workplace. By fun, I don't mean 24hour parties (before you get excited). When changes are afoot within any organisation the first question asked will be "Is it profitable?" and rightly so. Injecting fun, colour and places to unwind into a workplace may seem like an outlay which can be better spent elsewhere, however, profitability (that word again) is directly linked to productivity, which is closely linked to the mental, physical and emotional wellbeing of the staff.
If you want your business to prosper and to be profitable, achieving the right office environment will be fundamental to its success. One of the biggest battles you will face when trying to achieve the optimum working environment is identifying the areas that need improving. No one likes to admit their inadequacies (personal or business) however, in terms improvement, it's paramount to success. Consider the failing characteristics within your current office and consult with your employees on how the idyllic workspace would look because no matter what your business and no matter what your attitude towards fun at work might be, these factors will always remain the same - staff retention, loyalty, satisfaction, health and wellbeing, engagement and productivity.
Stress is the main cause of long-term sickness so it is crucial to provide working environments which help to combat the build up of stress levels. Think about introducing more light, plants, add some brighter and more vibrant colours which will entwine effortlessly to add more aesthetic appeal to the office and, therefore, becoming a more inviting place to work.
If you're on the threshold of undertaking a new office fit-out or office refurbishment, now's the time to talk before it becomes too late. We have a highly experienced design and project management team at hand, but before calling on their expertise, think of the people closer to home – the Staff. Because, at the end of the day, these are the guys that will be taking you and your business to the next level. Right now it's not significant whether you feel a games room is an interruption - what's important is that you are open-minded about potential and opportunity. A games room and gym certainly make you stand out from other recruiters in your working sector, make your staff feel valued and satisfied so they look forward to coming to work.
The word 'FUN' can become somewhat misconstrued, especially within the workplace. However, don't think of the negatives. Link the next few words to the word Fun and see if that helps - satisfaction, solidarity, collaboration, team-building, creativity, inspiration and de-stressing.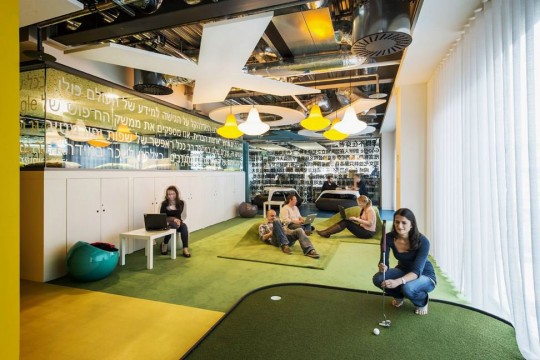 Google Dublin