Newly established (opened 7/04/15) Estate Agents, Newton King, are an independent agency serving Taunton and the District of Taunton Deane with a comprehensive property sales, letting and management service. After meeting with MD Michael Johnson it is clear that building a rapport with their clients is fundemental to the success of their business. Mission Statement:
"Concentrating on real people and homes, we bring a new generation of ethical and proficient property services to Taunton. Plus, as independents, we make getting it right a priority over balance sheets and work to bring our clients and customers the results they deserve.
If you aren't happy, then neither are we and nobody will work harder to open more doors for you than we will."
Newton King approached Office Reality once the initial fit out was completed. As soon as the opening phone call was concluded, a site visit with a member of our project/design team was formally arranged in a bid to gain a comprehensive overview of the customers' requirements and the office space as a whole.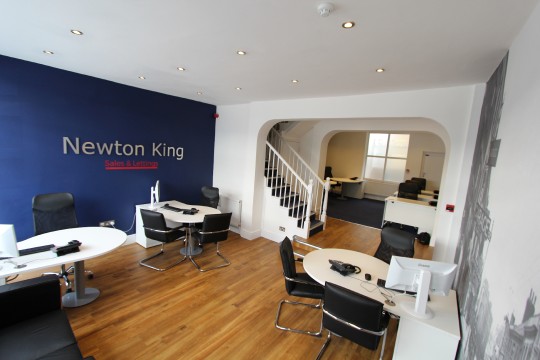 During the meeting, it was clear that our client had a vision for the two part office space already in mind. Front of house and client consultations to take place at the anterior of the building and to the rear of the building a more telesales based working environment.
In order to forfill the requirements of our client – 3 x White 800mm Deep Avalon Conference Workstations were selected to fill the front of house space. This design was agreed due to the versatility it possesses. It provides employees with a comfortable workstation and suitable storage solutions whilst allowing them to hold formal consultations, without moving from their workspace. 2 x (per desk) Envoy black leather conference chairs were selected to surround the circular meeting end, coinciding seamlessly with the visually appealing white Avalon desks.
In any busy working environment it is vital to have a seating area available for anyone waiting to be attended to. Bearing this in mind, the timeless classic 'Le Corbusier' 2 seater sofa was selected to add the final touches to this already very inviting office environment.
As previously mentioned the rear of the office space was fashioned to house the sales team, who are unlikely to be spending multiple hours at their desk, but visiting clients and merely using the workspace for setting up meetings and following up leads. 3 x White Avalon Desks 1200mm x 600mm were selected to shape this space. The desks may not seem large enough for some, however, they're still suitable to accommodate each user contentedly with sufficient room for under desk pedestals. Expansion and growth is always in the forefront of our designers mind and this was no exception.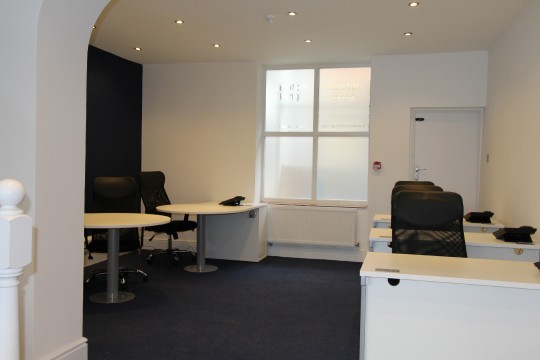 Newton King Estate Agents were extremely pleased with their new office space and the furniture they received. The building stretches across 3 floors and it became clear that there are future plans to utilise the space for business purposes. We, therefore, hope to be working with Newton King again in the very near future. We would like to take this opportunity to wish Michael and his team all the best with their new venture.
Michael Johnson the MD at Newton King Estate Agents said:
"Ben was fantastic, he came to our offices in Taunton and carried out a site survey and then came back with plans and artists impressions of his proposed design. The furniture arrived swiftly and I am extremely pleased with the finished product. I would like to say a big thank you to everyone at Office reality".
For All Project Photos CLICK HERE