It is the summer (use that phrase loosely) but this bout of poor weather has already got me thinking of the autumn. Terrible really!!
I currently find myself thinking about Bonfire Night, Oktoberfest, Halloween and, dare I say it, even Christmas. Whilst thinking of Halloween I had a small epiphany - "Most people write about the supreme office spaces around the globe, but not many will talk about the more farfetched designs, the ones that are just 'odd' as opposed to 'fantastic'".
Google might have their slides and rooftop gardens, but sometimes a little bit of quirkyness isn't quite enough, so here are my top 3 offices that take bizarre to an entirely different level. Enjoy!
My initial reaction – "Why is there a child diving in the office, that is a bit odd". However, I later discovered that this was really a statue. Crazy right?
From the sculpture of a rather nervous child dangerously perched on a diving board, or a random hairy creature (not live) that bears an uncanny resemblance of the Adams Families' Cousin 'IT', to a kneeling astronaut.
The European banking firm decided to flip the perception of uninviting banks on its head. Their Copenhagen offices are filled with a collection of bold art, aiming to inspire staff and visitors alike.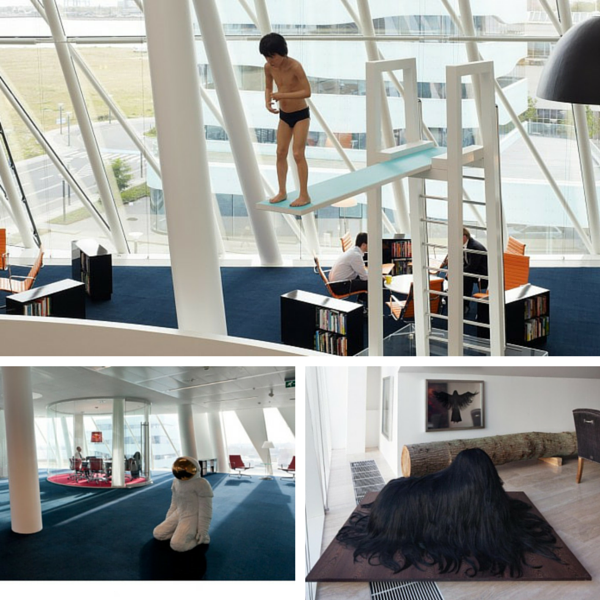 Source: Office Snapshots
If you visited the offices of a company called Inventionland (who invent more than 2,000 items a year) you'd presume to see something a bit imaginative. What you'd actually find is a 70,000sqft office design based in 15 different sets! Pirate ships, a race track, and a giant shoe house to name a few, this office really has it all!
Obviously, their motto is "The best work comes out of the spirit of play".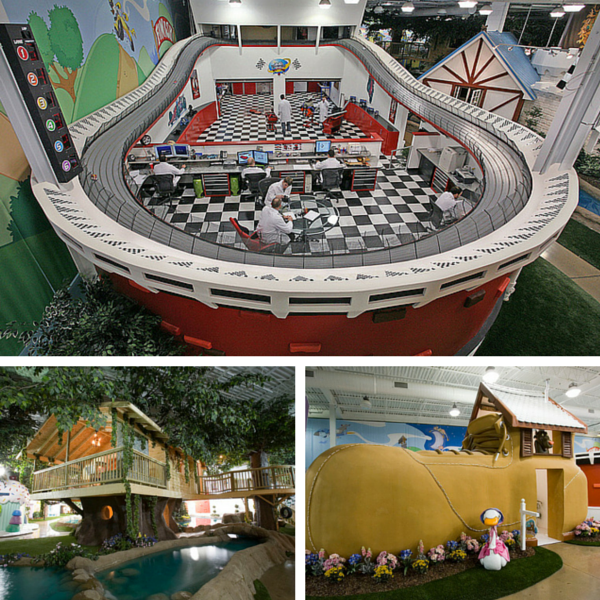 Source: Office Snapshots
This cultural association promotes the study of the German language in 159 institutes across the globe. Artist Sebastien Neitsch designed an audio visual projection mapping system that transforms it into an interactive space, straight from the sci-fi movie Tron. How this all works is beyond me, I won't pretend to understand the technicalities behind this incredible space, but a suspended microphone picks up any sound and turns it into animated wall graphics, making it the most wonderfully weird office design I've ever come across!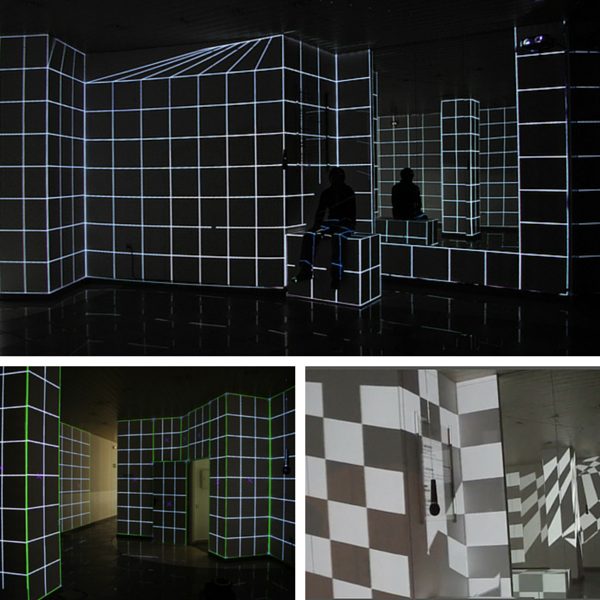 Source: Office Snapshots