On the 31st May 2014, Office Reality reached a landmark mile stone. 10 years in business, which is a great achievement when you take into account where Paul and Helen, the company's directors, started off all those years ago. When coming up with the idea of building an office furniture company, they were never sure if it would really take off as much as it did. They took every day as it came and built a highly fruitful company from the bottom up. The company you see today is a credit to all the hard work that has been put in by them both over the years.
To celebrate the 10th anniversary of Office Reality, we headed to 'Nigel Mansell Raceway' for a day of go karting. The day was full of laughs and obviously a lot of drama. 10 members of the Office Reality team embarked on this epic journey, a journey which brought out the competitive streak in everyone. We split into groups of five for practice and qualifying. After getting used to the karts (which had a surprising amount of power) it was time to start stepping it up a bit. The day started as a bit of fun, but as the karting wore on it soon became apparent that this was more than just a friendly day out, this was a competition. So with qualifying now in full swing, times began improving. Customer services manager, Tommy, led the first five with a time of 49.263. In the second qualifying heat, designer, Ben, came out on top with a time of 49.174.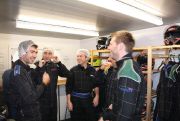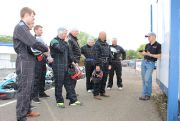 Ben had set the pace and he was immediately made favourite at Paddy Power.
As all 10 members took to the track for the first race, which was done in reverse order (quickest at the back, slowest at the front) the tension began to grow. Practice was over and there were no more second chances. If you made a mistake then your colleagues would no doubt hold it against you for the rest of your working days. IT WAS RACE TIME! The engines were revving as everyone anticipated the green lights. The lights changed and in the words of Murray Walker "It's GO GO GO"! Everyone sped away safely and the race was on. As the quickest from the qualifying made their way through the pack it was marketing co-ordinator, Nathan, who took an early lead which lasted all but 30 seconds. Manager Paul had a small collision with Design/Project Manager Angela, which seemed to upset the apple cart as Paul tried making headway. The field began to thin out and after lap 5 it was sales agent, Ian that led the pack with Tommy in second and former marketing manager, Luke completing the top 3. As the three broke away from the rest of the field, it was obvious the winner of race 1 would be one of these three, baring a big collision. No collision came, the three front runners stayed in that order as they took the chequered flag.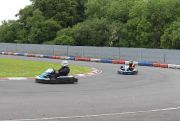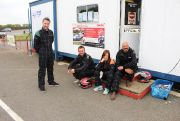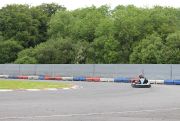 Podium Positions: 1st Ian, with a fastest lap of 0:45.262. 2nd Tommy, with a fastest lap of 0:46.041. Completing the top three was Luke, whose quickest lap was 0:46.018. As everyone left the pits, it was time to discuss the race. Credit controller Andrew, blamed his positioning on his kart having a lack of power in the straights (bad workmen always blame their tools). Sales advisor Mike, who was driving Kart 7, thought that by not coming 7th would be bad for his OCD. After 5 minutes of laughter and pondering about the previous race, it was now time to gather ourselves for the main race where whoever qualified first started at the front and whoever had the slowest time started at the rear of the grid.
As we made our way to the grid in position order, it was apparent that things had now got serious. Medals were at stake. Not only did a sense of pride and fulfilment await the winner, but also bragging rights for the rest of the year.
Main Event Grid:
3rd 2nd Pole
Luke Tommy Ben
6th 5th 4th
Mike Paul Ian
8th 7th
Nathan Alex
10th 9th
Andrew Angela
People's eyes locked to the track as the countdown began. The lights turned green and the race to the title was on. By lap 3 Delivery driver Alex created a stir by looking to get into a podium position, but he took the same line as Nathan who took it slow which caused Alex to spin off and effectively end his quest for a podium finish. Apologies Alex. Just behind this, more fights for position were taking place, Luke and Ian were having an epic battle when disaster seemingly struck as the two came together and both span out of control. Paul was making his way through the field as everyone in his path decided to take each other out of it. Until he took a corner too wide which led to Paul having a closer look at the barriers around the course. Mike was tailing Paul at this point, with the chance to pass him there for the taking. However, Mike took his eyes off the track and followed Paul into the barrier. Angela (fastest lady) was going about her business as smooth as possible, leaving others to make the mistakes. Ben and Tommy's colossal battle for 1st place was beginning to heat up. They nearly collided on numerous occasions, until Paddy Power favourite, Ben, made contact with Tommy which led to him hitting a barrier. Ben later claimed Tommy had ruined his weekend (this statement is not true). Tommy led the field, Nathan in second, with Ben in third. The race seemed set to finish this way until a possessed Ian made his way back into contention, cutting through the field clocking up the fastest lap time of the day: 0:43.954. He passed Nathan in second and moved onto Tommy's tail. It was only a matter of time until Ian passed the leader but the chequered flag was waved as he seemed set to make the move. The race was over. Tommy was the victor on a historic day for Office Reality. Final placing's: Tommy, Ian, Nathan, Ben, Luke, Alex, Mike, Andrew, Paul and Angela.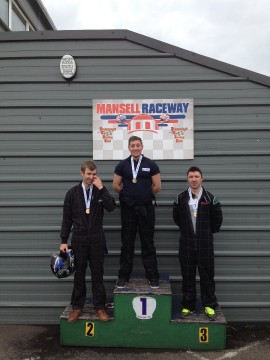 Next it was onto the Aviator for a sit down meal. Judging by everyone's reaction, the day was a big success. What better way to celebrate a huge milestone for the company than with a celebratory cake. Paul and Helen were presented with a collage of Office Reality's finest moments throughout the 10 years, capping off a brilliant day with a sentimental touch. Everyone within the Office Reality team wishes Paul and Helen more success in the future. Thanks for a great day!!
Here's to the next 10 years!!!!