Many times an afterthought, sometimes a hassle, but Office Storage should be a priority from the offset in any given office rennovation or refit.
As we move into an era of office design whereby the location of swings, pool tables and Pac Man are higher on the priority list than storage, I thought I'd fashion an informative article explaining how well organised storage spaces can improve office functionality.
Documents dotted around as far as the eye can see is not what I'd call an efficient working environment, far from it. It can give way to a lot of frustration, wasteful use of time, and can create a lack of impetus within the work force. This is why having well-designed storage cabinets in the office is a necessity for effective work.
There are many types of cabinets on the market, they differ in terms of designs, models, storage capacity, quality and, of course, PRICE. Selecting the most suitable office cabinet is not an easy thing to do.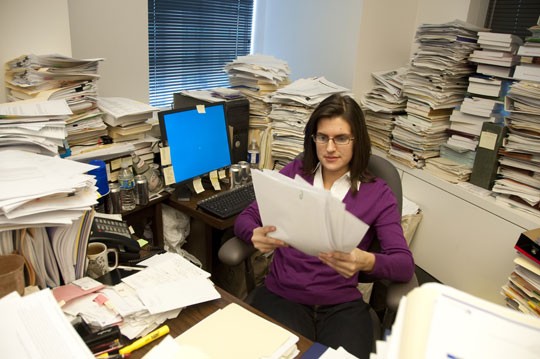 How Could You Work Like This?
I've selected two of our most popular types of office cabinets:
Lateral office storage cabinets have horizontal drawers where you can place files side by side. These kinds of cabinets make best use of the space, making it very useful in constricted offices. Occasionally, lateral units can accommodate more files than standard vertical ones. Additionally, you can set the files or documents front to back, or side to side depending on your requirements. There are plenty of lateral cabinets on today's market. Select metal or wood cabinets, depending on your office style, make sure the doors are sturdy and have locking options, in order to secure your private files, and try to find highly functional and easy-to-work-with models.
Vertical office cabinets have been around for a long period of time (1900 if I want to be more precise – which I do) and are the most popular type of storage cabinets we sell. Vertical filing cabinets are very convenient and easy to use. They are available with two to ten drawers for storing files, documents and letters. The files face the front of the drawer and are easily accessible. There are so many models and designs on the market. You can find very tall and narrow cabinets that perfectly fit small, unused spaces in an office. In terms of design, there are plenty of choices– from very stylish, modern cabinets, to traditionally designed ones. No matter the style of your office, you will certainly find a great cabinet to match it.
High quality office storage cabinets will not only help you store more files, papers and other required items efficiently, it will also improve the characteristics of the office, making it more aesthetically pleasing.
Our Bisley Storage Range provides unrivalled versatility when it comes to the two designs mentioned above.