I'm sure you've all heard of 'upcycling' but for those of you that haven't, it's the process of turning something old or unusable into something useful. Often better than the original and more than likely will be unique. In simple terms upcycling is taking an old torn and stained shirt and redesigning it to make it into something useable. Recently more and more designers are upcycling, creating unique and stylish designs. You can literally upcycle anything from drinks cans, pre-consumer waste and even old t-shirts. You don't need to look far to find interesting and exciting upcycled products that are environmentally aware and stylish; I have seen a plethora of different uses for even something as simple as a drink's can, from lanterns and candle holders to toys and even lampshades made entirely from the ring-pull at the top.
Here at Office Reality we are particularly proud of our 'Buzzispace' range, in which all the products are made from upcycled materials. Buzzispace is a great example of Eco-fashion mixed with inspirational design made entirely from upcycled products. Buzzispace really does add meaning to the old maxim of 'one man's trash is another man's treasure. Buzzispace's philosophy of 'cradle to cradle' which stands for the processing of environmentally friendly products, recycling and the conscious use of raw materials. The outcome is a fantastic range of cutting edge style with a quirky and vibrant edge that will bring life and vigour to any work place. Buzzispace's acoustic products work excellently to create your own area of tranquillity within the hectic work environment. The whole Buzzispace range is on the cutting edge of modern design with vibrant, striking, and pulsating products that will be sure to liven up any work or home environment.
This range ties in perfectly with the modern world as climate change is on the rise with the polar bears running out of places to live these upcycled products have never been important. Why produce more materials when you can make exceptional, contemporary products from other people's waste?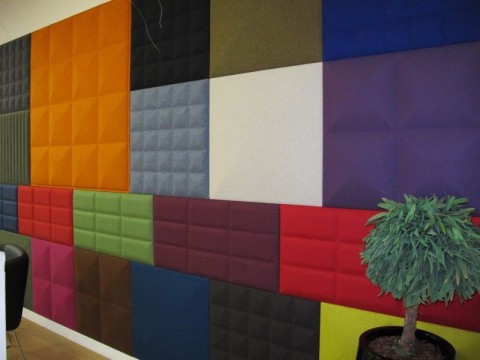 Buzzispace Accoustic 3D Wall Tiles