As the open plan office space increases it's dexterity onto business owners and office managers across the globe, I thought it would be fitting to delve into the world of acoustics and how they can benefit you and your business.
For anyone working in an open plan office the distraction and annoyance of colleagues' conversations and phone calls remain a prominent issue. It is well documented in research carried out over several years that noise in open plan offices causes reduced concentration, subsiding productivity, increased stress and non attendance.
Sound absorbing furniture helps combat open plan office noise problems artistically and efficiently. If there is a lack of meeting rooms within your office space, you can create a space by defining one with an acoustic soft seating area or create a room with meeting pods. Therefore, creating countless imaginative acoustic solutions for your space.
If you are reading this blog, you are wanting answers. Correct? First one being "how is this going to improve workplace productivity?" Swiftly followed by "how much is it going to cost?" Of course, the outlay is always going to be questioned. For this I will use a marketing term – ROI (return on investment). It's a question that can be answered with another question - How would working in a cluttered office space effect your productivity on an individual level (ask yourself)? From a personal perspective, I would become agitated and I'd be finding it difficult to concentrate. Now, switch that question back to noise and acoustics. How would you work in an environment that is loud and full of employees with no real method of thinking behind the logistics and layout of the office space? I think your answer to this will replicate your answer to the first question. If you have a messy office space – you improve your storage solutions. If you have a loud office space which is having a knock on effect to productivity, the issue is not as easy to rectify. However, it's an issue that's never going away. So it needs to be rectified for your businesses sake and for the sake of your employees. Something to think about when you are next in the office.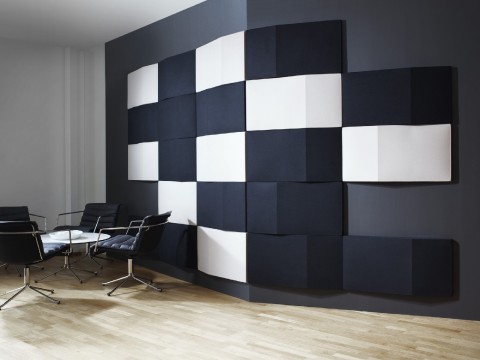 Acoustic office furniture can be used to create private or social spaces within modern open plan offices. Being proposed to define areas of relaxation, focus for brain storming, having casual team working meetings. Our wide range of sound absorbing furniture found below has been specifically designed to assist with disturbing office sound in very charged open plan offices.
Not only are they significant in reducing noise, they can also be used to create colour. Considerable amounts of our acoustic range is available in vibrant, bright, funky colours, which has also been proven to increase productivity in the workplace. On the flipside, if it's a more corporate feel you are after or you wish to maintain the company colours that is also a feasible option.
And NO, it won't reduce sound if you tie an acoustic wall tile to your head. OR WILL IT?