The wind was strong, the waves were like white horses crashing against the shore (well Shetland ponies' maybe) yet spirits were high as we parked up at Blue Anchor Bay ready for the Minehead Raft Race.
As we pulled our extremely heavy, rocket shaped raft out of the company van, it was clear to see we had some real competition. Stretching across the bay we saw approximately 20-25 man built rafts line up along the shoreline. It wasn't long before we realised that we were not going to be racing with the novelty and amateur rafts as we had originally thought, but with the professionals!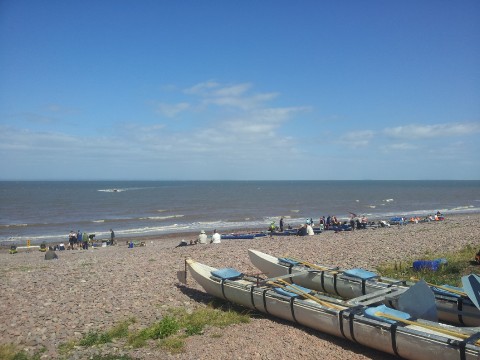 At the start line everyone around us was extremely friendly as they could see that this was our first raft race and that our design may not have been the most efficient. Nevertheless we love a challenge and we lifted our heavy rocket shaped craft, inappropriately titled "Apollo 13" to the start with all of the others.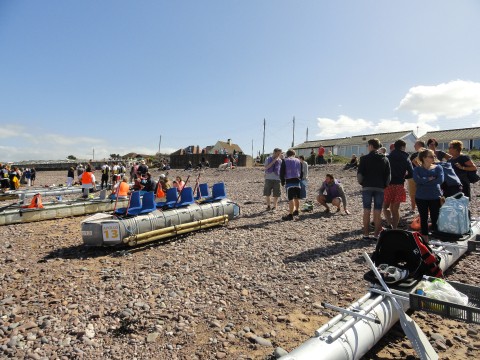 It was clear to see that there was a competitive attitude in the air with some of the more veteran teams calling to each other and edging closer and closer towards the sea to try and gain precious inches, which they thought may give them an advantage.
TV celebrity Kevin Mccloud was also competing and was situated only a couple of rafts away from us. If we were going to beat anyone we wanted to beat the presenter of Grand Designs!
Finally, and without warning, a flare shot off into the air and we were off!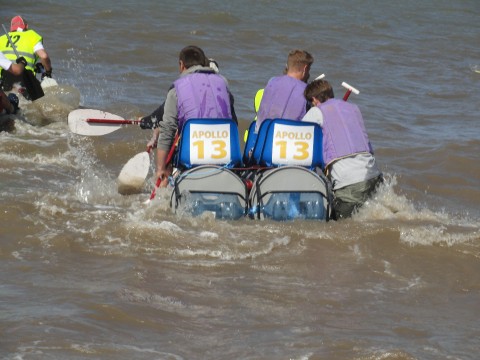 We quickly ran into the sea with the first row jumping in, the second and then the last and we began our 5 mile journey across to Minehead. It soon became obvious that we had no hope of coming first, in fact we were pushing hard to make sure we weren't last. After the first 200m the rafts began to spread out with the experts flying off into the lead and leaving us newbies in a small group of our own. With the sheer weight and design of our raft we knew that it was going to be a slow slog and within 500m we had found our rhythm.
"Row… row… row!" we each took it in turns to chant. We could hear in the distance similar noises in the same rhythmical fashion, but we were alone between groups, well that's what we thought.
With a quick glance round we could see that only one raft following us closely behind, yep you guessed it, it was team Mccloud!
We pushed and pushed and we began to create an ever increasing gap between the Channel 4 presenter's crew and ourselves. We all felt that much better about our position and it gave us hope and strength to push on through and battle the extremely choppy sea.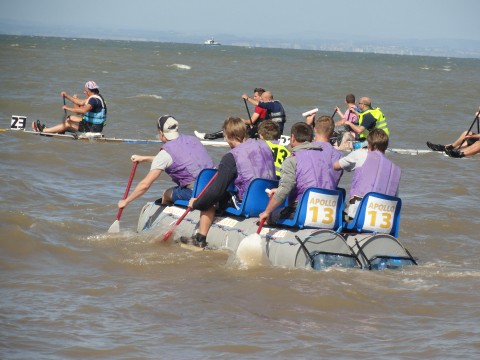 It seemed that our positivity was short lived however when team Mccloud passed us being towed by an RNLI boat with the camera crew's boat closely following them. We all thought they were cheaters and as they passed, a few of their crew members waved to us in a friendly fashion. Our response was not a friendly wave back but an even louder chant and a harder push from all six of us. If we could overtake and increase the lead from them once, we could do it again, no matter where the life boat dropped them. You also have to bear in mind that they had 8 people to our 6!
We could see in the distance that team Mccloud had been dropped about 250m in front, but it looked like they were struggling. With pain and fatigue beginning to set in we pushed forward to make sure that we were able to pass them and it wasn't long before we closed the gap.
We did not stop once paddling and despite our raft being heavier and having a smaller crew we passed them! We cheered and laughed at the crew of the Channel 4's raft as we then saw that it had begun to sink! (I am sure that the Channel 4 team filmed us doing this, but whether it will be aired on TV will be a different story!). Could you believe it! The team headed by the presenter of GRAND DESIGNS had built a raft that couldn't even make it halfway!
15 minutes went passed (approximately, none of us had the time!) and we had created about a 200m gap between our raft and the S.S. Mccloud. As we looked back we could see the RNLI crew once again saving them, but this time it was from being stranded at sea. We saw one raft that was even further behind them and one with a crew of 20 to the South West of us in the distance. It was then that we quickly began to realise that we were on our own……
Want to know what happened to the S.S. Mccloud? The Daily Mail sums it up...
http://www.dailymail.co.uk/news/article-2408810/Grand-Designs-host-Kevin-McCloud-rescued-lifeboat-shoddy-raft-SANK-charity-race.html