Great Britain is currently embracing its warmest month of the year. With this set to continue for the foreseeable future, it leaves me begging the question "what productive things can I do whilst the sun is shining?". Many of you reading this article would probably answer with "Visit the beach" or "finish off the gardening". This may be the case over the weekend but what about during working hours? The sunshine and warmer months are perfect for reinventing your working environment to give the office workspace a fresh new look which will ultimately inject a bit of motivation into your working week. The last thing you want when redesigning is a cold wet winter's morning, when your eyes are sleepy and the only thing on your mind is coffee and cake. People's perceptions change in the summer months, their objectives change. We seem to develop a siege mentality. Everything needs to be done and it needs to be done NOW.
An office project seems like a monstrous task but at Office Reality, we take the pressure off you. Our key objective is to make the customer experience as easy and painless as possible. The distinctive process we follow is very simple; we carry out a detailed analysis of your desired space, your requirements and your budget for the project. It's imperative that we find establish your requirements from design and planning all the way down to future objectives of the company for example if you have plans to expand the workforce or alternatively to downsize.
After gaining an in depth insight into your company's goals and ambitions, its then time to discuss the furniture you need to bring this to life. We have a highly skilled, proficient sales team with many years of experience that will deliberate what is best suited for your specific requirements. Our broad range of office furniture is built to make sure that we can adhere to every customer's needs.
With the office furniture now finalised, it's then onto the price. Our sales team will provide an in depth quotation for your perusal and approval. This contains product descriptions, pictures, amounts, quantities and overall price of the order. An estimated time of arrival will also be given, which will give you time to prepare the office for the furniture's arrival.
Why wait to see what your office space will look like? After the formalities have been taken care of, we can bring your order to life with our software 'P CON'.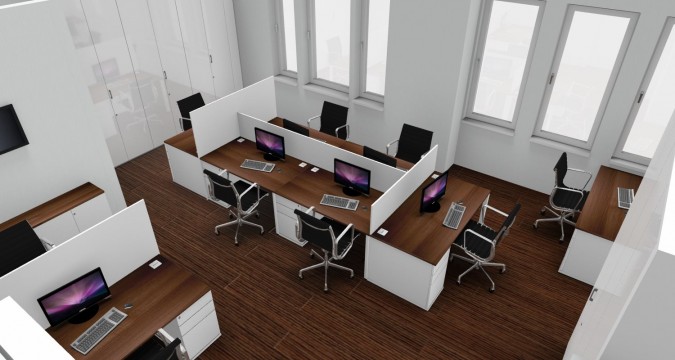 P Con Image
P Con is similar to other CAD programmes but is specific to the office furniture industry. P Con uses Office Furniture Modelling Language (OFML) which was developed because previous CAD programmes failed to meet the demands of space planners within the office furniture industry. The main problems stemmed from the poor configurability and insufficient product logic of office furniture models within the generics of CAD. P con works like most CAD programmes but makes configuring furniture and planning different models much easier and quicker. This is very useful because the client will want to see maybe two or three different layouts using different furniture models. P con is constantly updating and improving its performance which we welcome at every stage.
Furthermore, we have a professional and highly trained installation outfit, which can take the installation burden off your shoulders.
Office Reality can help you achieve your objectives; obtain your vision all from the ground up.
ANY PROJECT, ANY SIZE, WE CAN HELP.