Uniquest exists to offer UK higher education institution a tailored student recruitment service. They give strategic insights to student applicants and enrolments which help and improve the process for each potential student. With prospective students and organisations embracing digital interactions and communications Uniquest are well positioned to maintain and to respond to their needs.
We received a call from Uniquest Director Natalie Letcher who explained that they were in the process of moving offices near to the Shard building in London. Their new space had exposed brick work, floor to ceiling window with a high vaulted ceiling which sounded like one of those enviable office spaces you see on Pinterest! The brief generally consisted of the following:
1. Banks of desks for maximum 24 personnel
2. Desks size to be a space saving size at 1200mm wide x 800mm deep
3. Potential capacity for future growth
4. High desk top screens to absorb noise
5. Furniture to coincide with company branding with the company colours being white, orange and grey.
We presented Natalie with a 2D plan and 3D visual demonstrating the layout of the new office space at full capacity with 24 desks. We had initial concerns that there was not going to be sufficient space between the banks of desks which could result in a compromise of space behind the user and chairs clashing. We then specified the Astro Arch bench system which is now available with each desk top being 700mm deep which gave more circulation room between each bank. The problem was however was that the bench system could not easily have been broken down in to singular desks making future reconfiguration difficult.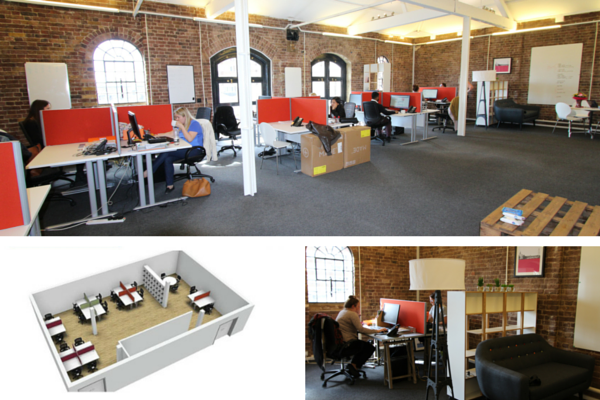 It was decided to re plan using only 14 single desks which would improve the circulation of the office space whilst still successfully housing all current staff members whilst still leaving sufficient space for future growth.
We specified the moderately stylish Optimize desk which has a double strut cantilever leg adding extra stability which in no way compromises the aesthetics of the desk. This range is available within 5 – 10 days and comes in various contemporary wood finishes such as white, cedar, bleached oak and santiago cherry,
The pricebuster V2 rectangular screens were also chosen at the maximum height of 480mm which helped in reducing office noise. The fabric was from the camira Lucia range 'Lobster' which was in keeping with Uniquest's orange across their website and logo. We also supplied a large wall mounted projector screen for the new meeting area.
The installation was a success with our experienced fitters arriving on time and completing the installation without any delays. The staff and Natalie were extremely happy with their new offices so much so that they sent us some pictures of the furniture in situ! We wish Uniquest every success in their new offices.
Do you have a project in mind similar to this? We would love to hear from you.