New 'COVID-19 secure' guidelines are now available to UK employers to help them get their business back up and running and workplaces operating as safely as possible. There are 5 key points within the published guidelines, which have been implemented to set out steps to beat the virus to restart the economy, protect workers and restore people's livelihoods.
Click to Download your FREE Covid-19 Workplace Risk Assessment Template
A key element to reduce the risk of transmission is to maintain 2 meters social distancing, wherever possible. If, however this is not possible, it's necessary for employers to install barriers (room dividers or screens) in shared spaces. Privacy screens, anti-bacterial office screens, office social distancing screens, office desk coughing screens, partition screens with viewport are fast becoming terms associated with desk mounted screens and free standing floor screen systems. For more information on our screens please scroll below to the bottom of the product feed.
Office dividers and desk top screens have been part of the office landscape for several years as they offer privacy, space division or creation and reduce ambient noise or excessive reverberation. However, screens, room dividers or barriers are now being utilized as a safeguard against the potential spread of contamination of the virus and manufactures have tailored existing screens to manage this transmission risk.
If a member of staff is in a fixed or customer facing role, such as a receptionist or front of house personnel, it's often difficult to manage the 2 meter distancing rule, as they are in a position to be approached by visitor or client. It is therefore imperative to protect this person from any potential harmful transmission. Permanent glass partitioning could be the best solution but not all companies and fit out contractors can act or work quickly due to the lockdown restrictions. Another stumbling block and factor which businesses may be considering during this time is the financial costs and implications to install permanent barriers and fixed glass screens.
In order to work around these complications and cost implications, we are supplying Safe Reception Privacy screens and Comfort Antibacterial screens, an effective solution to the problem and one that has already become commonplace in doctors surgeries, dentists, service stations and supermarkets. These screens are easy to install, maintain and disinfect are an effective solution to reduce the risk of contamination.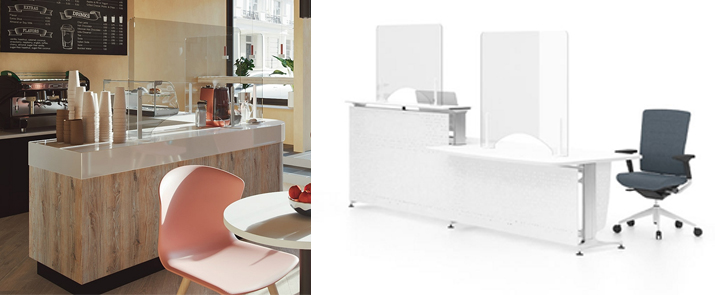 Anti-bacterial Screen extensions and headers for existing desk top screens
As mentioned previously the cost implications to refit or overhaul your office interiors will be high and may not be completely necessary, as we will see a reduced workforce returning to the office, perhaps in staggered times to reduce the R (RISK) number. Designers and office interior consultants have now been commissioned to design solutions that will enhance existing furniture infrastructure. One of these effective hygienic solutions is a desk top screen extension or header which has been designed to clamp on to existing desk top screens. These plexiglass, Perspex or glass extensions reduce the potential risk of airborne germs and particles between colleagues, whilst still enabling visibility, if workers cannot be moved, in order work side by side.

Antibacterial Vinyl as an alternative to standard screen contract fabric
If you are considering new hygienic dividers or desk top screens, to replace existing fabric screens (which may harbor harmful dust and particles) then anti-bacterial vinyl should be considered as an alternative. The Future Protection glazed screen, for example, is available in a leather look vinyl Vita from Camira fabrics. Vita vinyl provides maximum protection for heavy duty end-use areas in sectors as contract, healthcare, and hospitality. It is available in in a broad palette of 51 considered colourways, and even though it does not contain phthalate plasticisers or heavy metals it remains soft, stretchy and pliable. Because the vinyl is stretchy and pliable it bonds well to large surface areas such as the board structure used on desktop and floor standing screens. Due to these properties and the high 'stretch factor' Vita vinyl can also be used on memory foam used on task seating, breakout seating, sofas and armchairs.
3 sided screens or 3 way screens
With the popularity of shared bench desking we have become accustomed to having dividing desk top screens in front of us, yet we tend to omit the shorter return screens. This is because bench desks are designed so you can move (whilst seated) next to your colleague in order to communicate or share information. It is for this reason why shared bench desking features recessed central legs, which keeps any human lower body movement free from collision or interruption. However, with new government guidelines and increased awareness of social distancing this will simply not be encouraged. To establish firm boundaries and protect workers we may need to feature and adopt a 3-way screen solution, which protects the worker from harmful transmission. These types of screens shield a person's front, left and right side of the upper body. If colleagues are too close, we will feel instinctively uncomfortable in the space and whilst we have those thoughts and anxieties, we will not be using our cognitive skills to do any work. The Future Protection frameless glazed screens are available at any desk length and desk depth usually 800mm or 600mm. By introducing the shorter return screens the space is defined which will give physical and psychological comfort whilst retaining visibility and retaining light levels.