Previous
Bodo Shaped 1200mm wide Table
Back
More Details
Don't just take our word for it; see what our customers are saying
Trustpilot
customergraham callaby says...

We were very pleased with the chair supplied by online reality, extremely comfortable, lots of uses, this is our second chair purchase and overall service from company is excellent.

Date Added: Tuesday 29th January, 2019 5 out of 5 Stars

Jonathan Hill says...

Very impressed with both the furniture and service from this company. Order process was efficient. Delivery was timely and the guys who delivered it assembled it within 15 mins. The furniture looks great in my office. Really pleased for the price.

Date Added: Monday 28th January, 2019 5 out of 5 Stars

Andrew says...

Excellent service and when I had an issue with my order they helped me out immediately.

Date Added: Sunday 27th January, 2019 5 out of 5 Stars

Watkins says...

Great, quick

Date Added: Thursday 24th January, 2019 5 out of 5 Stars

Mark Bunyan says...

Excellent customer service The website is very user friendly and easy to navigate, from browsing the products, selecting them to the basket, and secure checkout and paying for them. Delivery timeline was as illustrated. Item received was 100% accura...

Date Added: Saturday 19th January, 2019 5 out of 5 Stars

ICU University Hospital Crosshouse says...

The delivery arrived within a few days of ordering and I am more than happy with the items I reveived.

Date Added: Friday 18th January, 2019 5 out of 5 Stars

SW says...

Easy to navigate site, prompt delivery and good customer service.

Date Added: Friday 18th January, 2019 5 out of 5 Stars

CARAS Tooting says...

The product I ordered arrived in good time and we are happy with the quality.

Date Added: Thursday 17th January, 2019 5 out of 5 Stars

Ms Smith says...

Very helpful company. Tables arrived promptly, they are good quality and very sturdy. Perfect for our small tea room. I highly recommend this company, they have a good range of products, great service and speedy delivery.

Date Added: Thursday 17th January, 2019 5 out of 5 Stars

Kev says...

I bought a Polygo 6ft fold in half folding table for my wife as a Christmas present as she does crafting as a hobby. She was absolutely delighted with it. It's very sturdy and easy to erect and fold away she says. She had booked a place at a...

Date Added: Wednesday 16th January, 2019 5 out of 5 Stars

The Basement says...

Exactly what was described very efficient knowlegeable staff a pleaseure to do business and will be ordering again soon

Date Added: Monday 14th January, 2019 5 out of 5 Stars

MERJE says...

Very impressed! We recently bought 12 desks and monitor arms from here and have been really impressed with the quality and finish of the products. Also the customer service has been outstanding and the installation team were quick, professional and...

Date Added: Monday 14th January, 2019 5 out of 5 Stars

AMH Workspace says...

We've been using Online Reality Ltd for the past 12 months now and the customer service has been excellent. The only snag we've had, was a wrong part being sent out which we couldn't of known until carrying out the install on site. How...

Date Added: Monday 14th January, 2019 4 out of 5 Stars

David - Director, stablepizza.com says...

Efficient service without over promising. Enough communication to keep me up to date without drowning me in emails. Will use again 100%

Date Added: Monday 14th January, 2019 5 out of 5 Stars

ECS Capital Limited says...

I have had lots of dealings with furniture companies over the years and these guys are first class. Very happy with my Avalon desk, great quality, and the installers were very good, quick and tidy. Wouldn't hesitate to recommend. Will definitely...

Date Added: Monday 14th January, 2019 5 out of 5 Stars

Carol Palmer says...

Order process easy and goods delivered quickly with no issues

Date Added: Monday 14th January, 2019 5 out of 5 Stars

Tom Wu says...

Good service, good product Delivery was on time and the product is excellent. Haven't needed any assistance yet, but the customer service rep who contacted me seem quite friendly.

Date Added: Friday 11th January, 2019 5 out of 5 Stars

WES Doors says...

Quality product and good customer service. The installers where professional and sure to check I was satisfied before they left.

Date Added: Friday 11th January, 2019 5 out of 5 Stars

Gamesys says...

I would have no reservations on using Onlinereality again or recommending them to others to use. We have used their services a few times now and have always be happy with the product and services provided.

Date Added: Friday 11th January, 2019 5 out of 5 Stars

Daman Singh says...

We ordered 6 upholstered Espacio chairs to go with our new dining table. It was a bit of a challenge - we'd always bought traditional chairs before and these were in mould plywood, chrome legs and a huge array of colours and fabrics. They arriv...

Date Added: Friday 11th January, 2019 5 out of 5 Stars

LEDVANCE Ltd says...

Great Service, Great Items/products we cannot fault them and would recommend them whole heartedly. From the moment I needed help with the order to delivery excellent.

Date Added: Friday 11th January, 2019 5 out of 5 Stars

Caroline O'hora says...

I ordered an item that was out of stock and I was kept up to date with the items progress.The staff where very helpful with all of my queries and my product arrived on the day that I need it.

Date Added: Friday 11th January, 2019 4 out of 5 Stars

Beth says...

Good quality office chair, great appearance which suits the office aesthetic perfectly. Relatively fast delivery and responsive, helpful team.

Date Added: Friday 11th January, 2019 4 out of 5 Stars

Vikki says...

I placed my order directly with the team. They were most polite and helpful. Any queries I had were answered swiftly and clearly.

Date Added: Wednesday 9th January, 2019 5 out of 5 Stars

Steven Thomas / Digitana Electronics says...

great service and an excellent choice of products and very good prices. I have purchased 5 tables bases on 2 occasions with this company and will be placing future orders. Highly recommended!

Date Added: Monday 7th January, 2019 5 out of 5 Stars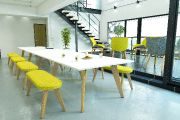 The Bobo range
The Bobo range of boardroom tables, storage, and stools inject an element of fun, colour, and warmth to any environment. Wooden surfaces are exposed in the structural elements of the table legs and optional plywood edging on the tops. There are plenty of option to create a table to fit your space as the table tops are available in varying widths from 800mm to 1600mm, please do not hesitate to contact us if you feel you need assistance in planning your work area or space with the lastest Bobo range.
Bodo Shaped 1200mm wide Table Reviews
Next
You may also be interested in...