Previous
Bodo Colour Table Bundle
Back
More Details
Don't just take our word for it; see what our customers are saying
Trustpilot
Nebrak Limited says...

Remarkable customer service, and extremely knowledgeable staff. Excellent communication throughout each project. We certainly recommend Office Reality, and look forward to doing business again in the future.

Date Added: Friday 20th September, 2019 5 out of 5 Stars

Bill Williams says...

Excellent service and product from onlinereality. I ordered too many office desks by mistake , phoned up onlinereality, tom from customer service dealt with this issue immediately and confirmed my original requirement, a confirmation e-mail was also...

Date Added: Wednesday 18th September, 2019 5 out of 5 Stars

RCS says...

Always a fab service & value for money. We have ordered a few times from here now for our office for items such as folding tables, desks and pedestals. We have had some of the items for a couple of years now, which we use on a work day daily basi...

Date Added: Tuesday 17th September, 2019 5 out of 5 Stars

So-Mo says...

We are extremely happy with the product we purchased - a large magnetic whiteboard. It arrived in good time and was easy to assemble. It is sturdy and works perfectly for our requirements. Great follow up customer service. Would happily purchase fr...

Date Added: Monday 16th September, 2019 5 out of 5 Stars

Linda Hughes says...

Great company to deal with excellent customer service and fabulous products at extremely reasonable prices

Date Added: Saturday 14th September, 2019 5 out of 5 Stars

Anchoram says...

Very happy with the products, service and delivery. Would happily use again.

Date Added: Saturday 14th September, 2019 5 out of 5 Stars

Lycée Français Charles de Gaulle says...

Great Customer Service and after sales service. For me, they focus on the customer and not the competition.

Date Added: Friday 13th September, 2019 5 out of 5 Stars

WAUK says...

quality product, deliver on time, good customer service.

Date Added: Friday 13th September, 2019 5 out of 5 Stars

ICSNET Technology says...

Product, delivery and installation exactly how described. Very happy with whole experience!

Date Added: Thursday 12th September, 2019 5 out of 5 Stars

Proclinical says...

Ordered 2 pedestals online and they arrived the following morning - excellent delivery speed.

Date Added: Thursday 12th September, 2019 5 out of 5 Stars

Sandra says...

The desk top is very good quality, speedy delivery and friendly customer support

Date Added: Thursday 12th September, 2019 5 out of 5 Stars

Somers Financial Ltd says...

We ordered a new office desk and chair from Online Reality and were very impressed with the service and the products. We were kept informed on the progress of our order from beginning to end and they always responded quickly to any messages. The pro...

Date Added: Thursday 12th September, 2019 5 out of 5 Stars

University of Manchester says...

Quick and easy order placed via the Online Reality Website. Very clear lay out. Outside bistro style table and chairs delivery very prompt.

Date Added: Wednesday 11th September, 2019 5 out of 5 Stars

Nickie D says...

Everytime I order from Onlinereality I receive accurate confirmations, updates on delivery and when we need additional support with a product we always get first class service. We recently ordered some Tambour cupboards which suit our needs perfectly...

Date Added: Wednesday 11th September, 2019 5 out of 5 Stars

Thomas Rochford says...

I ordered a folding projector stand and was a tad disappointed when we opened it to find a part was missing. I wrote to the Company to see what could be done as we needed it for a transatlantic presentation a week later. OnLine Reality have been real...

Date Added: Tuesday 10th September, 2019 5 out of 5 Stars

Matt - The Bristowe says...

Items as order. Delivered on time. Happy Customer

Date Added: Tuesday 10th September, 2019 5 out of 5 Stars

Mr Orme says...

Service was exceptional as when a fault developed with a chair it was replaced extremely quickly with no issues. Original orders were handled very well, delivery was on time and well packaged . I have used them twice and would highly recommend them

Date Added: Monday 9th September, 2019 5 out of 5 Stars

Pilotlight says...

Office chairs Online purchase was very easy and the chairs arrived on the date requested (although strangely, in a different delivery to desks from the same place that were being delivered on the same day). The chairs were easy to assemble and are...

Date Added: Monday 9th September, 2019 4 out of 5 Stars

Teem Recruitment says...

Great customer support - had a couple of questions before buying and everyone was quick, efficient and went above and beyond to help. Even after my order was complete, I had constant updates about shipping and check-in to make sure everything had arr...

Date Added: Tuesday 3rd September, 2019 5 out of 5 Stars

Mr Francois Theron says...

good website, easy to use

Date Added: Friday 30th August, 2019 4 out of 5 Stars

Thornbury Rugby Club says...

Great quality products. Excellent after service.

Date Added: Friday 30th August, 2019 4 out of 5 Stars

John says...

Good product and very good value for money. Efficient delivery service. No hesitation in recommending.

Date Added: Thursday 29th August, 2019 5 out of 5 Stars

Waterford Medical Centre says...

Quality Chairs at an affordable price. Easy to assemble. Delivery instructions as requested and in a timely fashion. Good customer care and follow up. Second time using company and based on our experience would recommend.

Date Added: Thursday 29th August, 2019 5 out of 5 Stars

Armorgard says...

Easy to deal with

Date Added: Thursday 29th August, 2019 4 out of 5 Stars

Derek Cooper says...

Excellent quality products and really good value for money, Very prompt service and delivery. Will definitely use them again.

Date Added: Wednesday 28th August, 2019 5 out of 5 Stars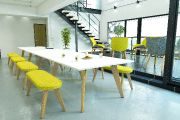 The Bodo range
The Bodo range of boardroom tables, storage, and stools inject an element of fun, colour, and warmth to any environment. There are plenty of option to create a table to fit your space as the table tops are available in varying widths from 800mm to 1600mm, please do not hesitate to contact us if you feel you need assistance in planning your work area or space with the lastest Bodo range.
Bodo Colour Table Bundle Reviews
Next
You may also be interested in...